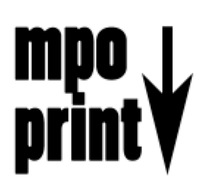 mpo2print processes mpo files taken by a fujifilm finePix real 3d w3 to a single jpg file.
you can easily then make paper prints for your favorite 3d viewer system
process for:

a) www.3dphotoscope.com

1 "select mpo1" and "select mpo2"
2 "run exiftool" to extract the jpg images from the mpo files.
3 "process files" creates a printable jpg with 2 stereo rows, one row rotated by 180 degrees

b) loreo Deluxe 3D Viewer by www.loreo.com

1 hit the loreo checkbox
2 "select mpo1"
3 "run exiftool" to extract the jpgs
4 "process files" creates the printable jpg

c) "process list" does the same procedure for a large number of files.
drag files to the input text field and hit the "exiftool list" and "process list" buttons.

online photoservice:
3dphotoscope.com: 10x15 (12.5 cm)
loreo.com: take 11x17 (14,7 cm)

processed files are saved into the same folders as the source mpos

you need to download and install exiftool by phil harvey first.


tested on 10.8, should work on 10.5 til 10.7, tell me please.
download here.

©2013 Wolfgang Oblasser



screenshot